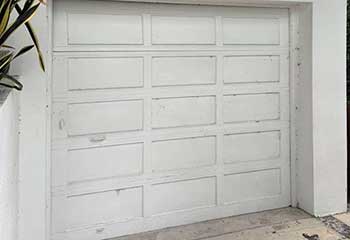 Panel Replacement
Customer Issue: The customer had a panel and set of hinges warp out of shape and block the rest of the door. He wasn't sure why only this one panel warped, but it needed replacement nonetheless.
Our Solution: Luckily, this wasn't a custom garage door, so ordering a panel replacement was easy! We disconnected the door, took it off of its tracks, and unbolted the hinges and spindle holding the panel in place. We installed the replacements and put the garage door back in place, along with some extra waterproofing to keep this from happening again.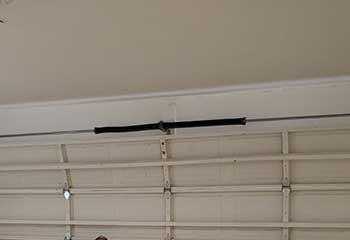 Broken Spring Replacement
Customer Issue: The customer's extension springs were tangled, and seemed sure to break soon.
Our Solution: With the door locked in place and supported in the open position, we loosened the caps and then the bolts. When we were sure both springs were relaxed, we untied the safety cables and removed both of the old garage door springs. After cleaning and lubricating the cables and bolts, we installed the new springs, reconnected the door, and gave it a test.