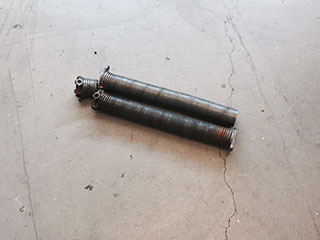 There comes a time when every garage door spring will eventually need replacement. Why? Simply because these mechanisms are under lots of strain each time you use the door. They're built to be very durable and last for years, but their strength and flexibility do have limits. Garage door springs are measured in life cycles, and when those cycles start reaching their penultimate number, you might start to notice weakness in the springs and a sagging garage door. Our local professionals at Garage Door Repair Los Angeles offer customers the quickest solutions for help with broken springs and tension adjustment. We provide same-day services daily, even on weekends!
Garage Door Spring Broke, Why?
The answer is quite simple. It's meant to, or rather, it's an inevitable outcome when you use it long enough. Any mechanical device like garage door springs goes through wear and tear each time you use it. With biological matter like the human muscles, you get growth and repair. With garage door springs, you can get repairs, but from an outside source like a technician. So eventually, after their strength and durability have been sapped, weakened garage door springs will break. It's very much advised to get them replaced well before that happens, as there are some dangers involved in this occurrence. If not fastened well, broken garage door springs can fly off, potentially causing damage or harm to anything or anyone nearby. For fast assistance with broken springs, our Los Angeles garage door repairmen are here to help.
Safe Replacement of Broken Springs
It's important to carry out this task correctly, as the risks remain even after the garage door spring broke. Without working springs, the garage door doesn't have the full counterbalance it used to have. That means it will feel suddenly heavier to lift. If the cables get frayed or break too, there's even a chance the garage door will slam shut on you. And then you have the new springs to install, which you need to load with tension. If you don't know what you're doing, this too can be dangerous. So it's a very good idea to seek help from professional garage door spring replacement services near you. This way, you let the experts handle everything safely and save yourself more hassle and money on more repairs.
Broken Spring Repairs For Garage Doors Near Los Angeles
When you need help dealing with this type of problem, we provide the fastest service solutions around! Got a broken spring you need to replace? Garage Door Repair Los Angeles will help you install new springs without any risks, and at low costs too. Save yourself the headaches and hassle and let local technicians take care of everything. Get in touch with us anytime for emergency spring replacement or other services, any day of the week.