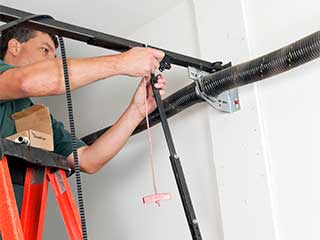 Scheduled maintenance is a great way to keep your garage door safe, secure and in full working order. There are several different ways in which you can reassure yourself and our technicians are ready and waiting to guide you through the entire process.
The Essentials of Garage Door Maintenance
Unlike straightforward repair work, maintenance is all about monitoring the various moving parts of your garage door to ensure that each one of them stays in top condition. By getting a professional to inspect and run a few operational tests on each component, you can save yourself a great deal of hassle in the long run. Here are some of the most important parts to keep in mind.
Checking Spring Tension
One of the most common ways to maintain your system's optimal performance is to replace worn-out springs before their function drops to a completely unacceptable level, regardless on which type you have, torsion or extension. It's particularly important to have our professional technicians test them out on a regular basis as these components have a tendency to seem to be working properly until the very end, when they suddenly snap.
Even if only one of your springs has snapped, don't try to tend to it! Don't even try to close your garage door if it stayed open. These components can be extremely dangerous and must only be handled by trained professionals.
Testing The Opener
Sometimes the opener mechanism itself can outright fail. In this case, you'll definitely have to get in touch with our experts and to have them deal with the issue. Whether it's the carriage assembly that got jammed, or the power unit suddenly burned out, these are complicated problems and must be left to professionals.
Safety Testing
Examining the operation of your opener and various other garage door components is a task you should never neglect. Given the increasingly electronic nature of such systems, many things can go wrong. Whether you need to adjust the force sensitivity or switch out the safety sensors, call our professional technicians today!
Need more? We also provide:
Liftmaster Garage Door Maintenance
Belt Drive Garage Door Openers
Garage Door Extension Spring Replacement
Overhead Door Installation